Magnetic Phone Holder Australia
$49.93 $59.95
Product Details
 Magnetic Phone Holder 
This product is designed to provide you with a safer and more comfortable way of viewing your phone when driving.
The Magnetic Mobile Phone Car Mount Kit allows secure attachment for any mobile device.
Can be attached to any vehicle dash with unlimited viewing angles
Magnetic Phone Socket features a powerful neodymium magnet and silicon center to provide a strong grip and smooth glide.
360 Degree Rotation - can be easily moved to meet your needs
The neodymium magnet is safe for use with all phones and tablets
Both the Magnetic Phone Socket & Ball Mount components feature 3M® VHB™ foam adhesive tape for secure attachment
3M® VHB™ foam adhesive tape can be removed without damage to surfaces
Ball Mount is a high-quality steel ball that is press-fit into the machined aluminum base for security
Securely holds any phone or mobile media device you own.
Quick and easy installation on your dashboard
Adjusts and holds in any viewing angle
Installation
With the included adhesive metallic disk, you can simply stick it to the back of your Smartphone and portable players, and place your device with the metallic disc centered over the magnetic holder. The mating 360° rotatable ball shape mount allows you to adjust the phone to your most comfortable angles.
Package Includes:
Magnetic Bracket
PU Leather Magnetic Iron Sticker
Ultra Thin Magnetic Sticker
3M Sticker
Stainless Soft Film (paste it on phone first then paste the magnetic sticker)
* Mobile Phone not included.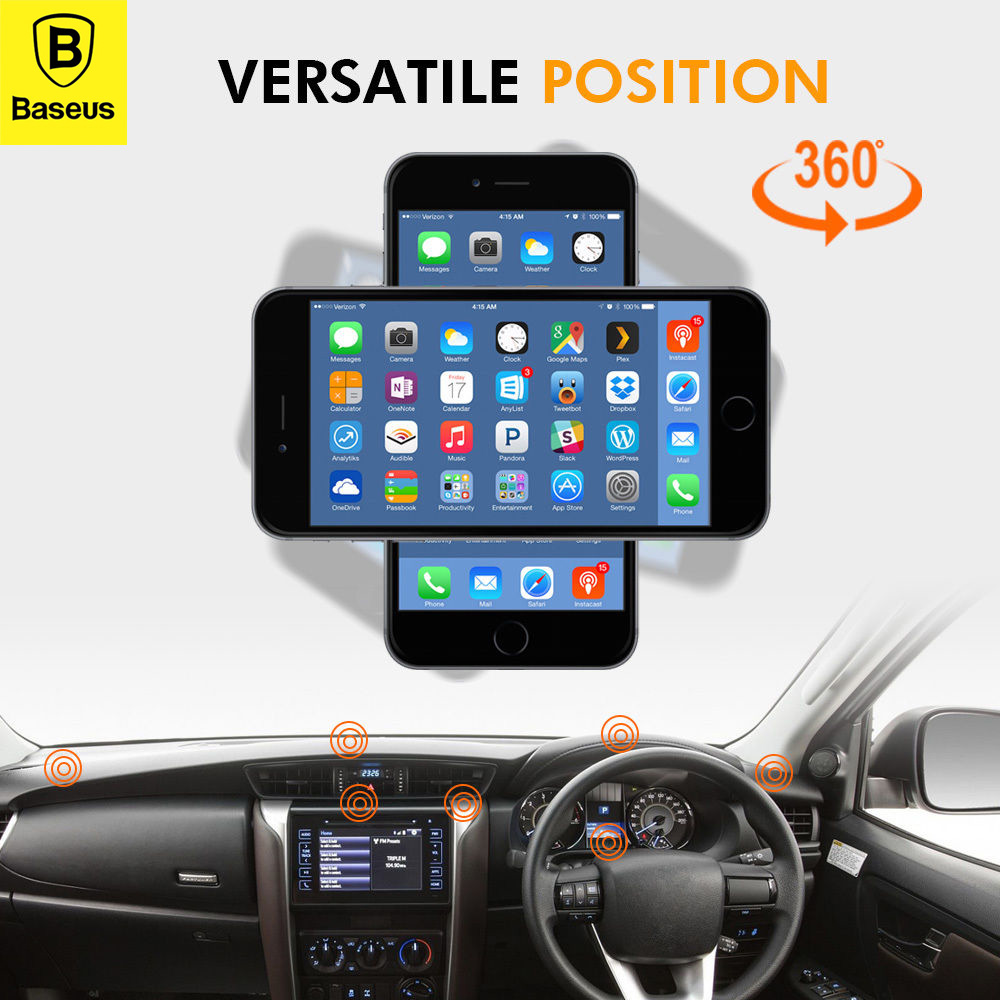 Returns

Warranties

All Goods purchased from the Apusworld.com.au come with a 12 Month Standard Warranty. The 12 Month Standard Warranty will commence on the date that you receive the goods. Extended warranties may be offered from time to time on the Website. If you purchase an Extended Warranty, the Extended Warranty will replace the 12 Month Standard Warranty. In order for you to claim under the 12 month Standard Warranty, the Extended Warranty or the Consumer Guarantees, You must provide proof of purchase.

The benefits under the 12 Month Standard Warranty and Extended Warranty are in addition to other rights and remedies You have under a law in relation to the product to which these warranties relate. The goods come with guarantees that cannot be excluded under the Australian Consumer Law. You are entitled to a replacement or refund for a major failure and for compensation for any other reasonable foreseeable loss or damage. You are also entitled to have the goods repaired or replaced if the goods fail to be of acceptable quality and the failure does not amount to a major failure.

Return of Goods

If you would like to return any goods under a 12 Month Standard Warranty or an Extended Warranty, you must first contact the Apusworld.com.au support team at support@apusworld.com.au You will receive written instructions informing you whether you have a right to return the goods, and if you have a right, what you must do in order to return the goods. It is your responsibility to ensure that the goods are returned safely. Apusworld.com.au will not be held responsible for any loss, damage or destruction during transportation of the goods. Goods must be returned in their original packaging with all accessories, and must be in a re-saleable condition.

If you would like to claim a right under a consumer guarantee under the Australian Consumer Law in respect of your goods please contact the Apu's World support team at support@apusworld.com.au for further instructions"

 

NO CHANGE OF MIND RETURNS

Please choose carefully as Apusworld.com.au does not accept return of goods because you change your mind or make a wrong decision about Apu's World goods or services.

 

 

Delivery

COVID-19 Update - Please note we are experiencing high demand, we've seen an increase in people shopping online. This increased demand has resulted in some of our delivery times being longer than usual. Moving forward to ensure safety our delivery partners have been advised to reduce contact with customers by placing packages at the customer's doorstep and stepping back.

 

Pre Orders: Please check estimated ship date on the product page or contact us for an estimate as preorder timelines can vary slightly.

 

FREE STANDARD SHIPPING TO AUSTRALIA ON ALL ORDERS.

No promo code required - free standard shipping is automatically applied at checkout.

Free shipping is a limited promotion and not available for orders delivered outside Australia.




Standard Shipping: FREE - All standard orders will be processed and dispatched from our warehouse within 3 to 5 business days.(Mon-Fri) Standard Australia Post parcel delivery times will then apply once your parcel leaves the warehouse which is 3-7 business days. 

(please note we dont ship on weekends or public holidays)

Express Post: (AUD $14.95 - $44.95) Express orders will generally leave our warehouse within 1 to 3 business days. Express post delivery times will then apply once your order leaves the warehouse 

which is usually 1-3 business days. (please note we dont ship on weekends or public holidays)

 

Courier Shipping: (AUD $14.95 - $39.95) If you require a more premium experience over Australia Post, select the courier delivery and we will send via Sendle, most courier orders will generally leave the warehouse in 2-3 business days, transit times will vary from 1-3 days for metro cities excluding Perth, regional locations and W.A/N.T will take 4-9 days. 

(please note we dont ship on weekends or public holidays)

 

International Shipping- to NZ, USA, UK, CANADA, FIJI.

Standard International Shipping: We offer FREE shipping on items below 10 kg. These items will generally be shipped within 3 business days. D

elivery times will vary depending on location, as a guide 

10

-20

 business days.

 

Priority: AUD $30-$50 AUD international orders will generally leave our warehouse within 48 hours (Mon-Fri). Delivery times will vary depending on location, as a guide 7-12 business days.

 

To estimate delivery time for either of the Australia Post services, Express or Standard post, visit the Australia Post delivery estimate website and enter the postcode 2154 (Castle Hill) in the 'From' field and your own postcode in the 'To' field. Remember to also consider the warehouse processing time for your order when working out when to expect your parcel.

Apu's World will update you all the way along the delivery cycle, with detailed tracking information so your purchase is never to far away. If you have any queries please don't hesitate to contact us at Support@Apusworld.com.au

 
Customer Reviews
07/23/2019
steve s.
Australia
"Excellent Value for the money"
No complains at all works straight away
05/22/2018
Tim. P
Gladesville, New South Wales, Australia
Magnetic Steelie Mount = STRONG
I haven't written a review in such a long time, but I had to share my experience. I've had the Magnetic Steelie mounted on my dash for a several months now. I had to order another magnet because my cell phone case with the first magnet fell apart. The Steelie magnet is very strong! I know this because it literally saved my phone! I love you, Steelie. Here's what happened. Yesterday, I was walking to my car after work. I was carrying two large tote bags, my big Yeti cup, and my phone. Well, my battery in my key fob had died long ago so I've been having to unlock my car door manually. Yes, yes, I know. Why not replace the battery? I will! I will! Any who, when I finally made it to my car I put my cup and phone on the roof of my car and my bags on the ground so I could unlock my car door. After unlocking my car door I out all my belongings in my car and took off. It wasn't until I was getting on the interstate did I question the whereabouts of my phone. Thirty km later, I arrive at home and get out of my car. What do I see stuck to the roof of my car? Yep! My phone. It made it all that way! Yes, the Steelie held my phone securely through several abrupt stops, sharp turns, bumpy roads, going 110-120 kph most of the way. Thank you, Apu's World! You are legends.
05/22/2018
Anthony .G
Gladesville, New South Wales, Australia
The best mounting solution I've ever come across
I recently bought a piece of equipment that had a digital control head that I wanted to mount on my dash. The control head was a bit heavier than any smartphone I've seen. I didn't want to screw it in and there wasn't a good space that fit the mount in any case. I found the Steelie and it turned out to work extremely well. Even better, it looks very good on the dash by itself when I don't mount the control head on it. Unfortunately, about a week after I mounted it, the car was totaled in an accident. I removed the mount with some dental floss, which is in the directions and works quite well. I ordered the remount kit from the manufacturer and found it contained 2 replacement mounts, not just one. I remounted in the new car easily. The strength of the mount is easily sufficient to hold smartphones and control heads and there is very little movement as I drive. One tip - the magnet mounted on the phone should be mounted in the center of mass, especially from side to side. If it's off-center the phone will lean and turn to the side with more weight. Another tip - put the magnet on the phone first, then put it on the ball mount - don't mount the ball mount! With the phone attached, hold the mount onto the dash where you are thinking of mounting it with all cords attached. I found that the initial place I was thinking of mounting did not work because of the way the cords would fit and reach. Try it in a few different places before you actually do the mounting.
05/22/2018
Allan . T
Gladesville, New South Wales, Australia
Love It
I never post reviews, but I am very happy with this product! I bought 2 of these to mount my iPad mini in the car. I opted to go this route because I really like having navigation, prefer to listen to mp3 via bluetooth in my car (as opposed to radio), and the quoted price for navigation installed aftermarket was $1600! I already had an iPad and thought the navigation was pretty solid, so I decided to pursue a mount that was clean, and didn't overwhelm my dashboard. I did a lot of research and read a lot of reviews. I also bought an iOttie (which I thought held my iPad pretty well, but because of the way my dash is set up, blocked a lot of my controls, so I returned it). The Steelies magnetic mount are PERFECT! They were super easy to install, my iPad is stuck to those like superglue, and when I am not using it, the Steelie mounts aren't that noticeable. I was really nervous about my iPad falling off with every bump I hit, but that is not the case. The reason I bought 2 mounts was because I didn't want my iPad to block the heat vents and the way my dash is configured, 2 mounts made the most sense. I believe one mount would be sufficient for the mini iPad, but would go for 2 mounts if you intend to mount a regular iPad on your dash. I have to admit, I wasn't thrilled with sticking stuff to the mini or the car dash, but after the initial shock of having to do that, it doesn't matter to me. I usually keep my iPad in a case when not mounted and the "magnets" are covered by the case. The best parts? Siri is voice activated and can talk all my commands without me taking my hands off the wheel, and I since I live in the ghetto, I don't worry about my fancy nav system getting stolen! I just grab and go!
02/16/2018
Max . L
Bondi, New South Wales, Australia
Great Mount For Nav..
I was looking for a mount I could leave in my car, that was small and convenient. This little unit works really well, holds the phone super tight, rotates and is really handy for google maps, and spotify love it....